Strictly Come Dancing: the Grand Final – live | Television
[ad_1]

Key events
What a dance, says Motsi – Helen closed the show and it was amazing. Shirley thought Helen peaked at the right time, it was clean and polished and they are superstars. Anton says he has danced in a few of these (what, finals? Just the one, isn't it Anton?) – Helen has discovered her inner performer. Craig thought it was a dance that should win a final – it was incredible.
I'd forgotten about Gorka's corset, it's quite something. For me this loses something without the chorus line – it was a brilliant ensemble performance but this isn't working for me. It feels more like a Charleston – less sexy, more slapstick. Maybe just me – it's been a LOOOOONG night.
Their Favourite Dance is their Couple's Choice to 'Mein Herr' by Liza Minnelli (from Cabaret). This was from Musicals Week only two weeks ago – on that occasion the backing dancers featured quite heavily, so interested to see how they're going to adapt it.
This dance was the point at which we all realised that Hamza really did have some competition for the Glitterball, and Helen showed up for wronged women everywhere. Again please.
Scores: 10,10,10,10 – another full house for Fleur and Vito. Incidentally, that was also one of my mum's favourite dances of the season.
Craig thought it was incredible – Fleur gave Vito a run for his money. Motsi spotted Craig dancing during that, which is apparently quite rare. Shirley loved watching Fleur and Vito as a team – Fleur has been a marvellous student and that routine will go down in history. On days like this Anton wishes he had a 12 paddle – in ten years' time we're still going to be talking about that dance.
This dance was a pretty special moment, when Fleur basically made her own music video on Strictly and Vito just came along for the ride. LOVE Motsi busting the moves behind the judges' desk. Whatever you feel about Couple's Choice, this is an extraordinary performance from Fleur, and I didn't mind seeing it again.
Their Favourite Dance is Couple's Choice to Destiny's Child Megamix by Destiny's Child. This was from Blackpool, and before tonight was the only dance this season to have scored a perfect 40. So I can totally see why Fleur would want to dance it again – will be interesting to see if it still has the same impact on a much smaller dancefloor.
Vito is never going to let Fleur go, apparently. Has anyone checked with Fleur's husband on that one?
Scores: 9,10,10,10 – a total of 39 for Molly and Carlos.
Anton thought Molly chose perfectly – Molly has wonderful Rumba leg action and she brought a womanly mature character to the dance. Craig loved the storytelling – it was controlled and measured. Motsi thought it was beautiful and classy. Shirley wants Molly to know that she fully deserves her place in this final. AGREED.
The good thing about this is that it reminds us what a Rumba is supposed to look like, and also Andrea does a phenomenal Whitney vocal. It's a brilliant Rumba from Molly, but I'm not sure it's the kind of dance you want to end on. Just my opinion.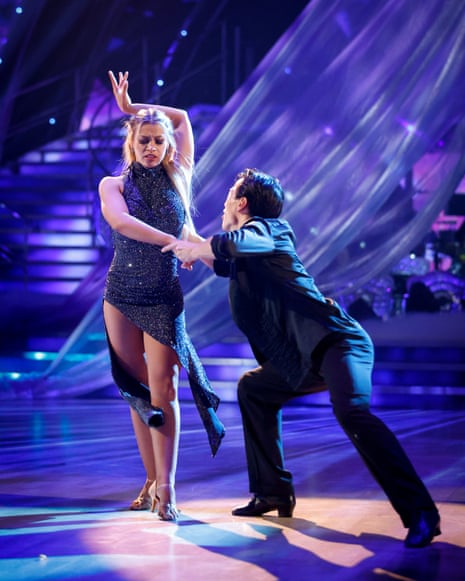 Next up it's Molly & Carlos!
Their Favourite Dance is the Rumba to 'All The Man That I Need' by Whitney Houston. Without a doubt the best Rumba of the season (it got them a 10 from Shirley), but I question the wisdom of wrapping up your Strictly adventure on a Rumba. Nobody loves a Rumba – even a good Rumba is still a Rumba.
[ad_2]