Binder set for Greek trial
[ad_1]

A rescue worker who grew up in Co Kerry is due to go on trial in Greece tomorrow, facing charges including espionage and forgery.
Seán Binder and others were arrested in 2018 while volunteering for a search-and-rescue charity on the island of Lesbos, where they were helping migrants.
Amnesty International and 89 MEPs are calling on Greece to drop the charges.
In 2017, Seán Binder went to Lesbos to work with Emergency Response Centre International, a Non-Governmental Organisation working with migrants.
He says he was inspired to help by Aylan Kurdi, the Syrian toddler who washed up on a Turkish shore, and whose photo made headlines around the world.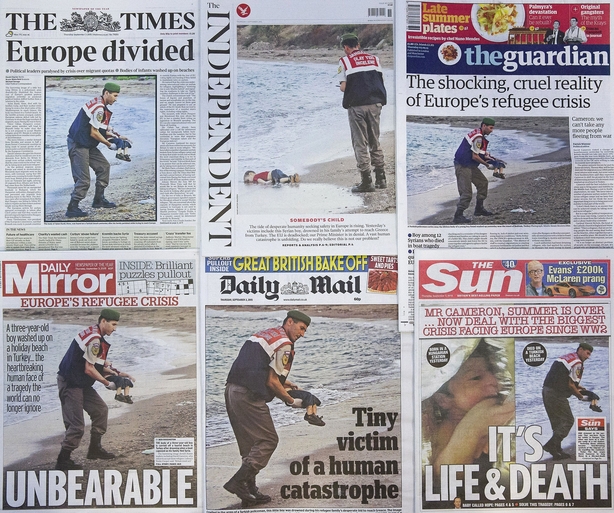 Three-year-old Alan drowned along with his mother and brother when a smuggling boat taking them to Europe capsized off the coast of Turkey in 2015.
In August 2018, Seán, who is a trained rescue diver, was arrested in Lesbos, along with a number of others, including Sarah Mardini.
Sarah, who is originally from Syria, arrived in Lesbos as a refugee in 2015. After the engine failed on the boat she was travelling on, Sarah and her sister Yusra saved 18 fellow passengers by pulling the sinking boat to safety. Yusra went on to swim for Team Refugees in the Olympics. The sisters' story inspired the Netflix film 'The Swimmers'.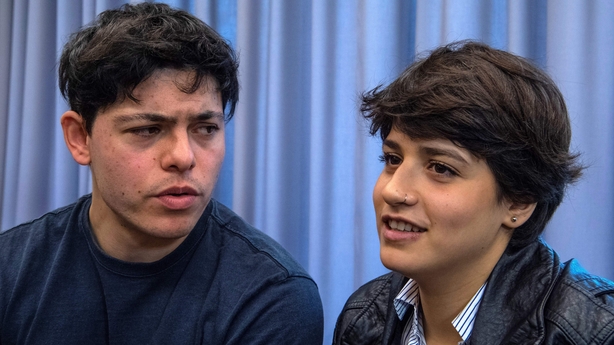 Sarah and Seán spent over 100 days in a maximum-security prison in Athens in pre-trial detention, only to have their trial adjourned in November 2021 for procedural reasons.
At the time, Seán Binder said: "We have been waiting for years, we spent three-and-a-half months in pre-trial prison, and now we have to wait again and we have to wait again because the prosecution was unable to do their job correctly… there is no semblance of fair trial in this."
Now, the 28-year-old and the other defendants are facing eight years in prison for misdemeanour charges including espionage and forgery.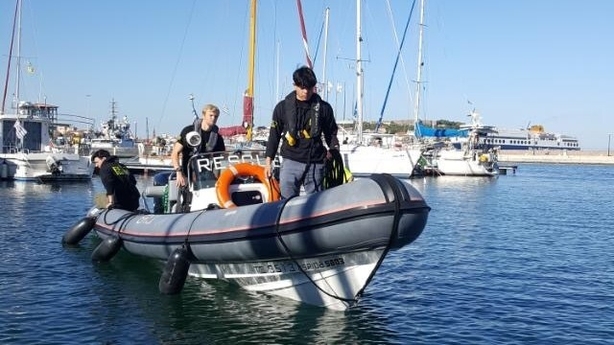 Seán said there are two ways things could go tomorrow.
"One, the judge acknowledges that these fair trial issues remain a problem and we have another adjournment, which we of course don't want, but the other option is that the judge says no, this is fine and then we proceed with this trial and if we proceed with an indictment that doesn't follow fair trial principles, then we'll be engaging in a trial that doesn't follow fair trial principles. We also don't want that."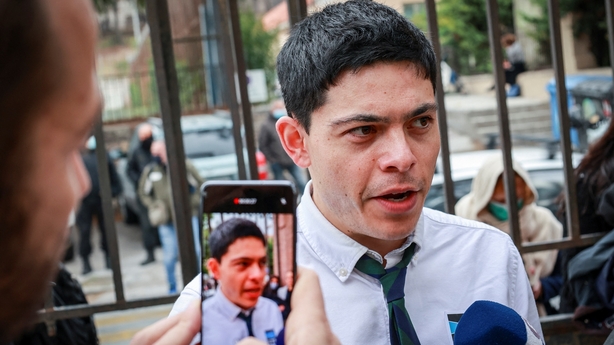 He said he just wants the trial to go ahead, as he and the other defendants have been living in limbo.
"I'm a trained lawyer now and I would have liked to have been called to the bar so that I can represent other people who are defendants in unjust criminal trials. But unfortunately, what is very likely is that I cannot be called to the bar until this trial concludes, and… that can take 15 more years. I'm approaching 30 soon and if I want to have a family, I won't have children if there's a risk that I will be out of their lives for 20 years because I'm in prison.
"It has had a horrible psychological, emotional, personal and financial cost, but the far more frightening cost, of course, is that if I go to prison tomorrow for helping people – I mean, honestly, I didn't even do that much. The vast majority of the time, asylum seekers are survivors. I was standing there looking on with the bottle of water in one hand and a blanket in the other, and if I can go to prison for that, then you can."
MEP for Ireland South, Grace O'Sullivan, is in Lesbos for the trial, and said that more than 89 MEPs have signed up in support of Seán Binder and his co-defendants.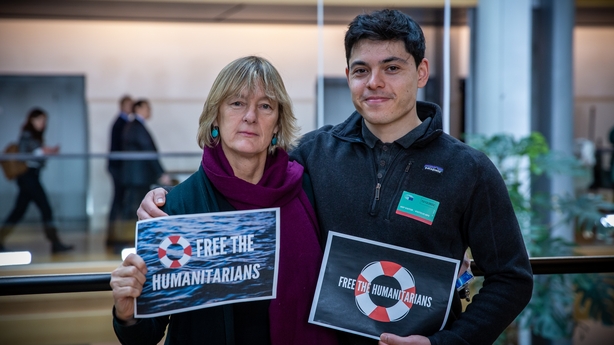 "I can't really understand why the Greek authorities are taking this case against the search and rescue humanitarian workers, because in fact, for years they've been working in cooperation with non-profit organisations, so it's kind of a strange," said Ms O'Sullivan.
"And they have within the last year or so [been] taking more severe actions against humanitarians… They've already served 100 days' pre-trial detention in prison. So tomorrow is the next stage of the trial and I'm here with the support of 89 members of the European Parliament and we're hoping the authorities will drop the charges."
Ms O'Sullivan believes the trial has been "politically-motivated from the beginning".
Asked if this is an example of so-called 'Fortress Europe', she said: "There's a sense that [Europe's borders] are under threat, but in fact if you look at the values of the European Union and the sense of many of us in the European Union, we should be a union that provides solidarity to those who seek our assistance, and in many cases the people who are travelling across the Mediterranean Sea are in dire circumstances.
"They're fleeing war, and really harsh regimes, and they're seeking refuge, asylum and protection. And we have a responsibility to support them," she said.


[ad_2]